What is coupon marketing?
http://cdapak.org/pf/vimeo-youtube-projects/ Coupon marketing is a type of marketing strategy where you introduce your products to your customers for a lower cost to pique their interest. It can be a gift voucher or a big discount that you offer to targeted visitors on your website. You might have come across coupons so many times on eBay or Amazon or any e-commerce sites!
Guangshui The key is not to bombard your visitors with a series of coupons, even if you think that this is tempting to do. But, it's to offer the right promotion to the right customer, depending on the purchase journey they are at.
OptinMonster has a huge variety of popups to offer the right coupons at the right time. From coupon wheels, to exit-intent® popups, to inactivity and geotargeted popups, there is a great OptinMonster coupon feature for everyone just waiting to be discovered.
Why coupon popups are important?
It helps to increase your conversion rates
It will convert abandoning visitors into paid customers
You will help your customers in their purchase & increase your sales at the same time
It will increase the user experience of your website
The goal of any business is to maximise on sales. Imagine that you're having tons of visitors on your e-commerce shop but no one is purchasing? This could happen because of numerous reasons; they were browsing and their cat screamed for food! So, they leave the website to do their stuffs & eventually forget. The attention span of a customer is very low. You have to give it your all to attract a customer as soon as possible.
Having a promotional coupon at the right time can help the customer & you also!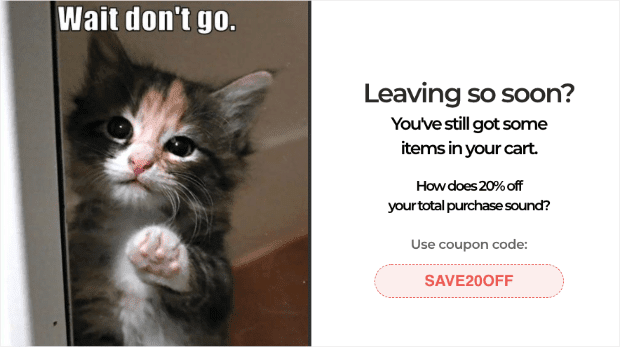 Coupon marketing is a tested and proven technique to retain the visitors from leaving the your website without purchasing.
I have highlighted the steps to create crazy promotional coupons with OptinMonster.
Here, you will find how to easily create awesome exit intents popups that drive sales.
And, how to create killer exit popups for WooCommerce
The Automated Spin-to-Win wheel is another popular campaigns that you can use with OptinMonster.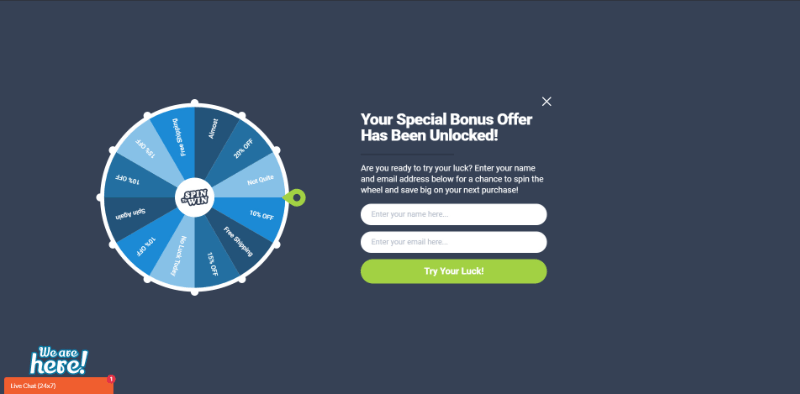 I know sales is hard. But, with the right marketing strategies and tools you can convert your leads to customers within no time!